Stay competitive with a fully-integrated and highly-technical CMO. A 100% comprehensive, in-house solution
RESCOLL MEDICAL has integrated most of the processes required to manufacture a large range of implants and medical devices in the fields of : spine, orthopedics, maxillo-craneal, dentistry as well as in the fields of tooling and robotics.
The concept
RESCOLL's objective is to become the most flexible CMO on the market, thanks to a unique offer including machining, finishing, surface treatment, cleaning and packaging as well as laboratory services that ensure faster, shorter time to qualification.
A fully-integrated approach with outstanding advantages
1 - Short Lead Times & Responsiveness
No waste of time in transport of parts between subcontractors, each project is treated as a whole, with all steps carried out in a single location… Reducing lead times by 30-40% (figures based on a classical spine implant).
Have an urgent request, or need to modify a delivery date? You can do that, thanks to our fully-integrated approach.
2 – Optimized Cash Flow
Short lead times mean less need for intermediate stock and cash flow. Which helps compensate for notoriously slow payment by health institutions.
3 – High Quality Standards
All process steps contribute to good quality. With the integration of all processes guaranteeing a synergetic system to maximize good results.
Traceability is also enhanced with this on-site policy.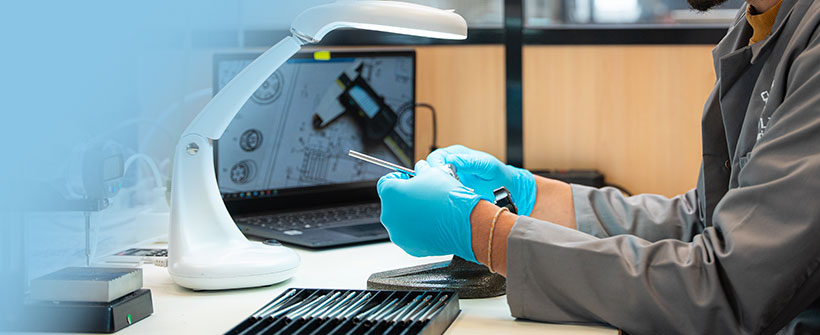 4 – Simplicity
Your purchasing department will have only one CMO to deal with, a single contact that guarantees efficiency in managing orders and deliveries on a day-to-day basis.
Your quality manager will only need to qualify one company and perform only one audit to demonstrate effective CMO management.
5 – An Eco-Friendly Service
RESCOLL Medical is also striving to optimize its carbon footprint. By qualifying adequate processes and suppliers, the number of kilometers travelled by the parts produced has been reduced by 70%, cutting down on approximately 195,000 km of transportation.
Additional improvements have been planned to take our environmental commitment even further.

CONTACT US